By Sarah Gonzalez : Reporter, WNYC/NJPR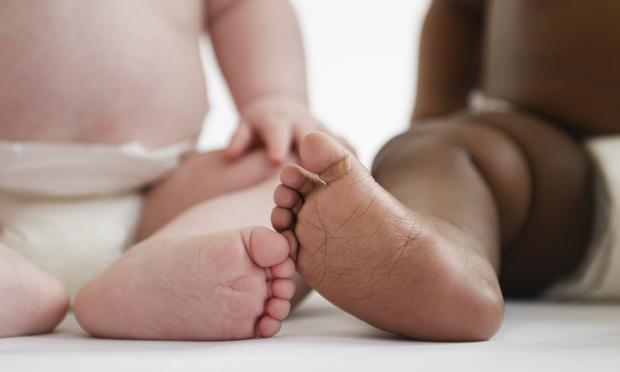 Black children in New Jersey are more than twice as likely as white children to be removed from their parents when drugs are at least one factor in their child welfare cases.
The New Jersey Division of Child Protection and Permanency can come into your life with one phone call.
"A person may call in and say, 'I saw a 2-year-old outside on the porch. I think there's marijuana use or drug use occurring in the home,'" said Amy Vasquez, a lawyer who represents parents in child protective cases.
"With that the Division goes out and investigates and makes a determination whether or not to remove the children," she said.
Sometimes the phone call comes from a hospital.
In Newark, 29-year-old Jameelah said she lost custody of her newborn son in the delivery room for smoking marijuana during her pregnancy.
"I was going through some things so I was smoking," Jameelah said. "It's no excuse but that was the reason I did what I did."
The baby tested positive for marijuana, too. He was returned four days later.
Drug use alone, is not supposed to be enough to lose custody of a child in New Jersey. The drug use needs to result in an imminent risk of harm to the child. But lawyers and drug treatment providers across the state say that's not always the standard being applied.
Lawyer James Colaprico has been representing parents in child welfare cases for 15 years. He says having a baby test positive for marijuana is not supposed to warrant a removal, unless some harm is evident. For example, if the child has respiratory problems, Colaprico said, that would mean that the child was harmed by the drug use.
Our Findings 
Nearly a third of all children who enter foster care in New Jersey do so at least in part because of parental drug use. Often it's only one of several factors, including parental neglect, homelessness or emotional or physical abuse.
New Jersey Public Radio and WNYC analyzed data from the New Jersey Department of Children and Families on the 25,713 children who entered foster care in the state between 2009 and 2013.
Our investigation reveals black children are more than twice as likely as white children to enter foster care when drugs are at least one factor.
Also, our analysis found that between 2009 and 2013, 16% of children entering foster care were removed from their parents solely because of parental drug use. The Division did not report neglect, abuse, abandonment or any other reason for the removal in those cases.
The state maintains it is not their policy to remove children based on drug use alone, regardless of what the drug may be, but officials could not explain why those children entered foster care.
In Part 1 of our investigation, New Jersey Public Radio reported black children are more than four times as likely as white children to enter foster care. Listen to that story here.
Black Mothers Particularly Vulnerable
Hospitals in New Jersey are a top source of child welfare referrals to the state. Oronde Miller, who heads the Alliance for Racial Equity in Child Welfare in Washington says that across the country black parents who use public hospitals are particularly vulnerable to losing custody of their kids.
"African American mothers in particular are so much more likely to be tested for substances when they give birth and to have their children removed if they test positive," he said.
The parent agency of Miller's alliance is the Center for the Study of Social Policy — the group that is monitoring New Jersey's child welfare system as part of the settlement of a federal class-action suit. 
Miller says schools, neighbors and hospitals are less likely to report white parents who use drugs.
"Somehow we think that the impact of the substances on a white mother's ability to care for and nurture her child is so much different than the impact of substances on an African American mother's ability to care for and nurture her child," Miller said.
"It just means that we're probably making very conscious decisions to remove children from African American mothers because of our judgments, somehow, of their fitness to parent."
More than 40,000 children a month are under the supervision of the state but get to live at home. The Division provides families with food stamps and counseling, and can order some to attend drug rehab. That's what happened to Jameelah after she tested positive for marijuana in the delivery room.
Smoking Marijuana 
The state returned Jameelah's son after four days. They decided he wasn't in imminent risk of harm. When Jameelah came home from the hospital her newborn boy was already there with her sister.
Case workers from the Division inspect her home once a month, and the mom of six was ordered to attend rehab three days a week in order to maintain custody of her youngest child. One positive marijuana test could set her case back, but Jameelah insists she isn't at risk of losing her son again.
"As long as I do what I have to do, I'm not at risk at all," she said. "It's not hard. If you want something you got to get up and do it. You got to make it work."
Jameelah goes to Integrity House's WISE Woman's program in Newark,  an outpatient center for mothers who are trying to maintain or regain custody of their kids. They offer classes on parenting, anger management and self-sabotage
The mothers turn in their cell phones and get tested for drugs and alcohol at the door. One of the counselors at Integrity House, Gabbi Weisman, says some of the mothers can't understand why smoking marijuana led them there.  
"A lot of times I want to say to them, 'Yeah I don't think you have a problem either. Wrong place, wrong time, but this is where you are and how can we make the most of this situation?'"  
Weisman works with case workers at the New Jersey child welfare agency to verify why her clients lost custody.
"When I first started working here, I remember clients would tell me stories about a neighbor, and more often a family member, calling and saying, "My daughter or my niece or my neighbor is smoking marijuana,' And I would call the workers," Weisman said.
"Because I thought something bigger happened. I didn't think it would be something that small and they would say, 'Yes, the neighbor or the mother or the aunt reported this and that's what we went to go investigate and that's why the case was opened."
She says the majority of the women with open cases at Integrity House are primarily there for alcohol or marijuana use.
But public defenders say they are starting to win cases involving marijuana.
The Kids That Need to be Rescued
It's the hospital's and the state's job to flag behavior in order to protect children. And some do need to be rescued.
Take Latifa's kids.
"I'm going to keep it honest with you, I didn't care," she said.
She lost custody of her newborn son for testing positive for marijuana and a generic brand of Percocet in the delivery room. She had already lost custody of her other two kids.
"At that time I was too caught up in the grips of my addiction," Latifa said. "That's when I resorted to cocaine. Got to using heroin, and I got to using heroin so bad to where I was shooting it up."
She was on the streets and ended up in jail. Her sister was her kids' foster parent, so Latifa could still see them whenever she wanted. But then the state started considering adoption.  The thought of losing her kids permanently made her snap out of it.
"I blame why my kids are in the system on myself," she said. "Everything is on me because at the end of the day, I chose to go that route."
She's been sober for almost a year. She gets tested and goes to counseling multiple times a week. But in the state's eyes it may be too late, and she knows it.
"I didn't do what they set out for me to do in the beginning, so I have to be punished."
Do you like this post?