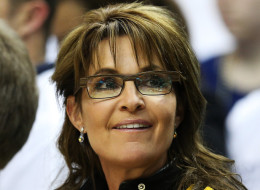 Sarah Palin will go to New Jersey Saturday to headline an event for Republican Senate candidate Steve Lonegan, days before the state's Oct 16. special election.
Lonegan's campaign and the Tea Party Express announced Wednesday night that Palin, the former Alaska governor and Republican vice presidential nominee, will appear at a rally at the New Egypt Speedway in South Jersey Saturday afternoon. The announcement comes a week after Palin announced her endorsement for Lonegan, a tea party favorite, in his race against Democrat Cory Booker.
Lonegan used the announcement to criticize Palin's former opponent, Vice President Joe Biden, for pulling out of a Friday rally for Booker to deal with the ongoing federal government shutdown.
"I am honored to have Governor Palin join us for the largest grass-roots campaign event in New Jersey history," Lonegan said in a statement. "While Joe Biden uses the excuse of a government shutdown to avoid an embarrassing reception campaigning for Cory Booker, I am proud to have the opportunity to stand next to a great conservative leader who should have been the vice president as we go into the final hundred hours till victory on Wednesday, October 16th."
Palin's trip to the Garden State comes as Lonegan has reduced Booker's once 30-point lead to roughly 12 points in recent polls. Lonegan, a former Bogota, N.J. mayor, is one of New Jersey's most conservative leaders and headed the state's chapter of the Koch brothers' Americans for Prosperity for seven years before entering the Senate race. He has been endorsed by New Jersey Gov. Chris Christie (R) and Sen. Jeff Chiesa (R-N.J.), whom Christie appointed on an interim basis after the death of longtime Sen. Frank Lautenberg (D-N.J.).
Booker's campaign last week attacked Palin's embrace of Lonegan and said the two have the wrong values for New Jersey. Booker, the Newark mayor who has been endorsed by President Barack Obama and enjoyed support from most statewide Democrats in August's four-way Democratic primary, plans to launch a five-day statewide bus tour on Friday.
"If voters had any doubt about how out of touch Steve Lonegan's values are with the values of most New Jerseyans, Sarah Palin's endorsement puts that to rest," Booker spokeswoman Silvia Alvarez said in a statement last week. "Like Mr. Lonegan, she wants to ban abortions, even in cases of rape and incest, doesn't believe in climate change and opposes common sense measures to make our streets safer, like expanded background checks for gun purchases."
Do you like this post?